KAKE.com
-
by Lily Wu
An official with the Wichita Police Department says 193 firearms were stolen from vehicles last year and 78 guns have been taken in car break-ins this year.
Sgt. Nikki Woodrow shared the information after Chief Gordon Ramsay addressed the thefts in a Tweet Wednesday.
"The police department urges our community to be vigilant and not leave property in vehicles, especially weapons," Sgt. Woodrow said. "These weapons in the wrong hands can cause a very dangerous situation to society."
"Seventy-eight this year so far and here it is just the end of April. It's definitely alarming," Sgt. Woodrow said.
The map below shows the areas where gun thefts from vehicles have happened since 2016: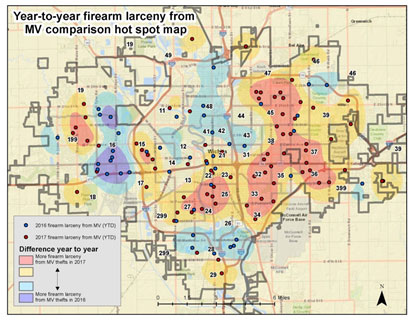 "Obviously if you go to a place and you have a firearm on you and you can't take it into a business, you should have extra precautions."
Below are the numbers of guns stolen from vehicles since 2013:
2017 (YTD) – 78
2016 – 193
2015 – 151
2014 – 85
2013 – 98
Previous story:
The Wichita Police Department Chief is advising the community of gun thefts from cars.
On Twitter, Wichita Police Chief Gordon Ramsay wrote, "Reading about another handgun stolen from a car. We had over 100 gun thefts from cars last year. This is a preventable crime!!"
Gun safety experts at Thunderbird Firearms Academy advise gun owners to be safe and responsible.
"We tell people, 'you're responsible for every round fired from that gun. That includes if somebody else is firing those rounds,'" said Brandon Light, director of retail operations at Thunderbird Firearms.
Thieves often break in and grab things that in plain sight, as well as easily accessible places like the glove box and center console.
"If somebody's going to break into your vehicle anyway, those are probably the first places that they're going to hit," said Light.
Light recommends that people use a lock box system that can cost around $30. There are more advanced and technical systems that are around $100.
"You don't have to spend that much money if you like the convenience, that's great. All I care about is that you lock the gun up, if it's not in your immediate control," said Light.
Wichita Police also urge people to take out personal property, purses, handbags, and electronics before locking your car.
See full interview at KAKE.com