Thought
It is midnight or 4:00 a.m. There, in the faint blue glow of the computer screen, is the Monnat & Spurrier lawyer quietly plying the disciplined study, long range strategizing and innovation that launches the action of all successful courtroom battles. Since its genesis, the firm has recognized the risk of the busy trial lawyer, scrambling from one courtroom to another without time for long range planning, investigation or research. By limiting the number of cases we accept and always employing at least one legal scholar who does nothing but legal research and writing, Monnat & Spurrier avoids the traps that can sidetrack the courtroom win.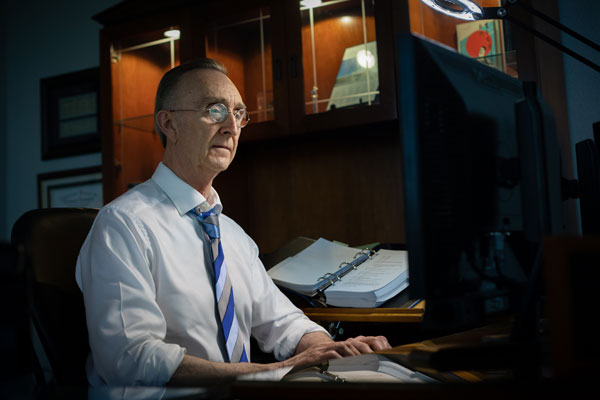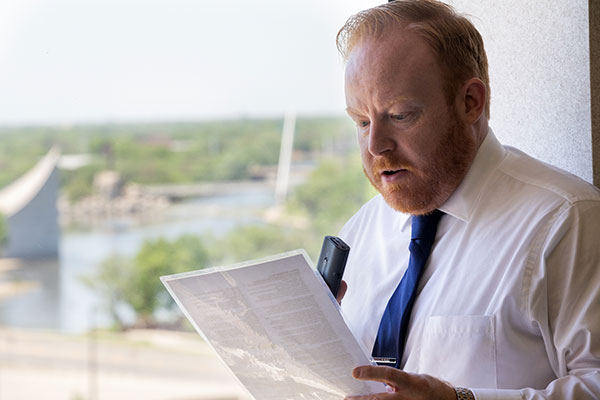 Action

Monnat & Spurrier lawyers are trial lawyers who regularly try "bet your life" cases to juries throughout the state of Kansas. Monnat & Spurrier lawyers do not count on quick plea bargains or "snitch" deals. Monnat & Spurrier lawyers are more likely out in the alley with a private eye looking for evidence or in the courthouse litigating creative motions and trying cases to juries.
Courage

Monnat & Spurrier lawyers strive to emulate the courage of the Nation's founding fathers. We do so by embracing the opportunity to provide every accused - from the man, woman or child next door to the unpopular person, company or cause - the right to jury trial guaranteed by the Constitution. We do so by confronting unjust practices, procedures and people with the latest innovations of the law, science and technology. We do so by fighting whomever we need to fight to achieve justice for our client.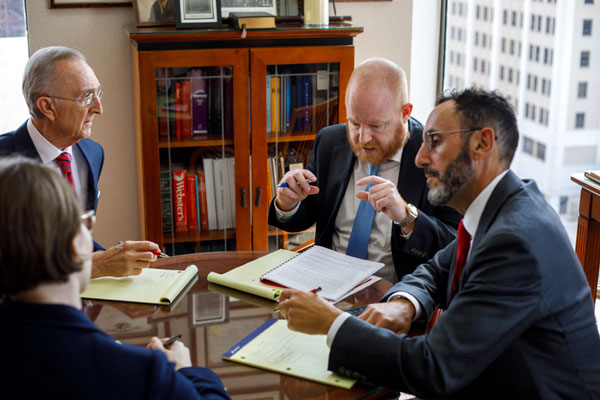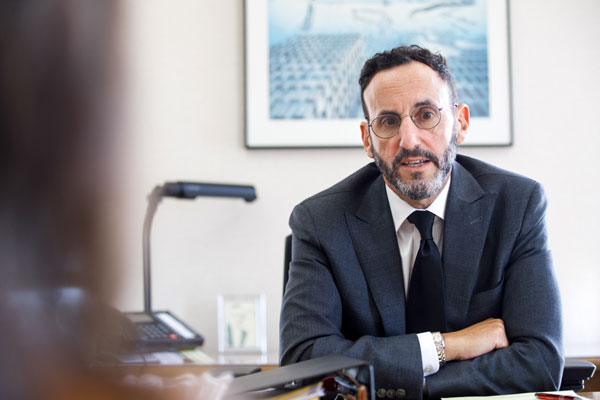 Care
Monnat & Spurrier lawyers know that if we want the jury to care about our client, the lawyer and law firm must care about the client too. Thus, the client, the client's family and everyone at Monnat & Spurrier will spend countless hours together learning to know and understand each other so that, together, we can help the jury understand us and why our client should win the case on trial. We know that we stand with other human beings during some of the darkest hours of their lives. We want to bring to that moment the humanity, understanding and enlightenment the client deserves.
Relentlessly, we live by these words: Thought, Action, Courage and Care.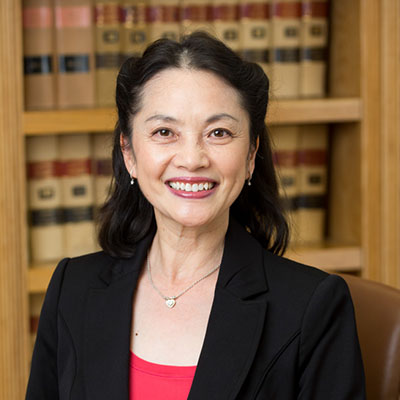 Grace Wu-Monnat
Office Manager
Monnat & Spurrier is privileged to have the unique assistance of Grace X. Wu-Monnat as its Office Manager and Trial Consultant.

Grace X. Wu-Monnat was born in Shanghai, China, to an ancestry rich in the traditions of the Chinese martial arts. At age 3, Grace began training with two of China's most famous and influential martial artists, her grandfather, Grandmaster Wang Ziping, and her mother, China's national martial arts champion and among the first generation of Women's Grandmasters Professor Madam Wang Jurong. Grace received her B.A. in Chinese Martial Arts from Shanghai Teachers University and her Master's Degree in Sports Administration from Wichita State University.

Kung Fu Fighting

The Sunflower – Wichita State University
October 2, 2007
by Schaeffer Bonner
A look at Wichita State students who study Kung Fu from an international master, Grace Wu-Monnat.

Email Grace-Wu-Monnat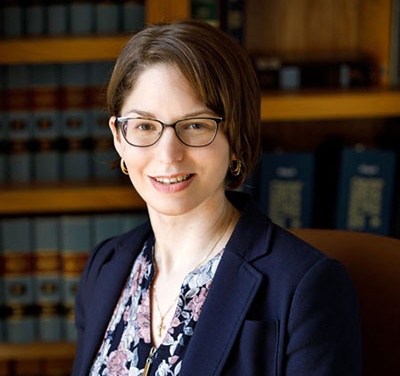 Gina Wehby
Legal Assistant to Dan Monnat and the Firm
Gina Wehby joined our firm in August 2018. She holds a Bachelor's in Political Science from the University of Kansas. She also completed medico-legal coursework at Drake University (undergraduate) and Saint Louis University College for Public Health & Social Justice (master's level), and attended Saint Louis University College of Law, where she completed law and health law coursework. Ms. Wehby has a keen interest and enjoyment in legal research and writing.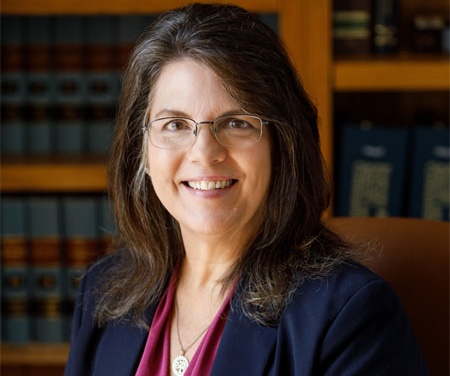 Julie Woodring
Legal Assistant to Sal Intagliata and Eli O'Brien
Julie Woodring joined our firm in January of 2020. She received her B.A. in Psychology from William and Mary in Williamsburg, VA, and her M.A. in Dance/Movement Therapy from Goucher College in Towson, MD. After a career in education at the Kansas School for the Blind, the Shawnee Mission Autistic program, as owner/operator of a private daycare, and as adjunct professor at Southwestern College in Winfield, KS; Ms. Woodring joined Andreas Law Office in Winfield, gaining experience in both civil and criminal law.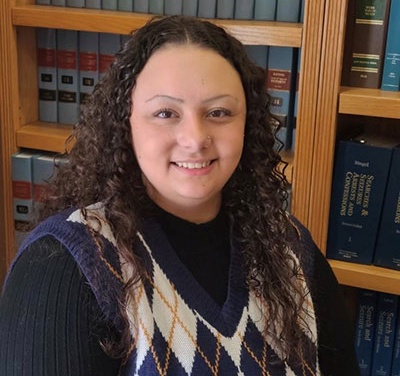 Kenda Bowens
Legal Assistant
Kenda Bowens joined Monnat & Spurrier as a full-time Legal Assistant in 2022. A native of Norfolk, Nebraska, she graduated in 2021 from the University of Nebraska-Lincoln with a Bachelor of Science degree in Criminal Justice and Criminology, and minors in Women and Gender Studies and in English. She was a William H. Thompson scholar throughout her time at the University. During her senior year of college, Kenda worked for the Lincoln Police Department as an intern. Before joining Monnat & Spurrier, she was a paralegal at Lewis Brisbois Bisgaard & Smith LLC.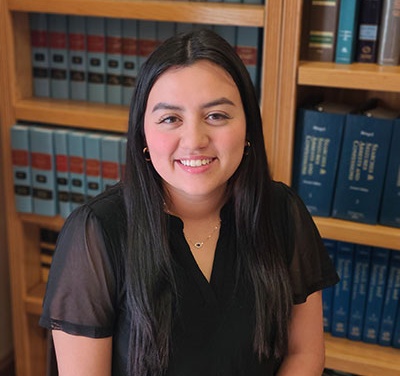 Selena Perez
Front Desk Receptionist and Office Assistant
Selena Perez joined us as a full-time front desk receptionist and office assistant in 2022. Selena is studying business and marketing at Wichita State University and was an award recipient for the Graphic Design Promotion State Championship, a division of the Business Professionals of America and a runner-up for the Desktop Publishing State Competition. She has worked in sales and marketing in several businesses and is fluent in both English and Spanish.