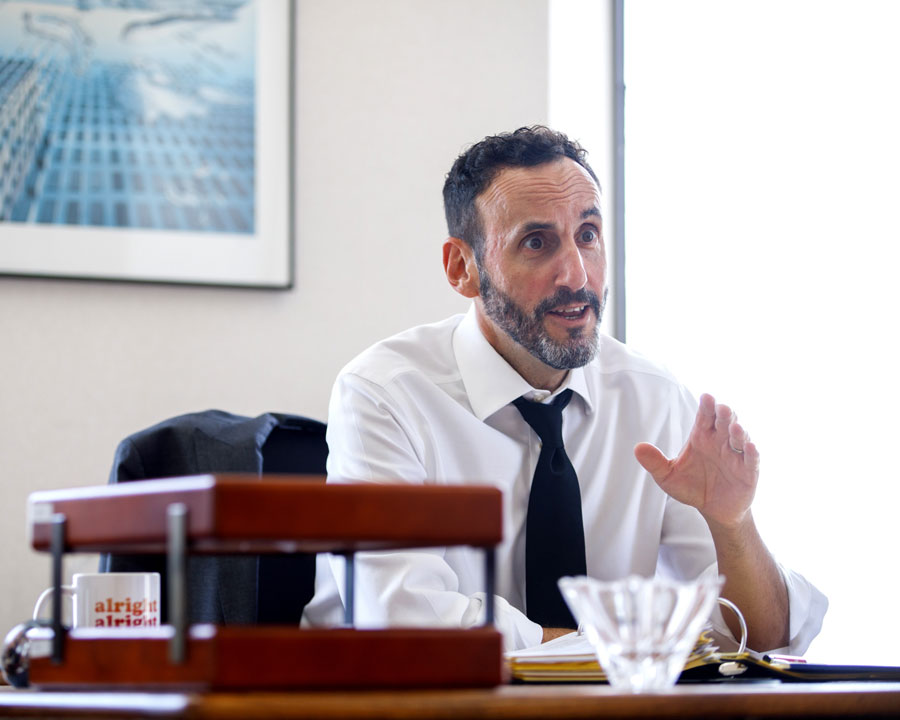 Sal Intagliata is a Shareholder in Monnat & Spurrier, Chartered. He brings an impressive criminal law background to the firm.

Mr. Intagliata's first inspiration to defend people accused of crime came during his second year in law school at the University of Kansas when, as both a student and then a student adviser of the Kansas Defender Project, he helped people without money appeal unjust convictions. Having since worked as both a private criminal defense practitioner (1996–2005; 2010–present) and an Assistant District Attorney (2005–2009), Mr. Intagliata has dedicated his career to promoting fairness and excellence within the criminal justice system.

While at the Office of the District Attorney, Mr. Intagliata practiced as a trial attorney in the Gangs and Violent Crimes Division. In private practice, Mr. Intagliata has focused almost exclusively on representing people accused of crimes at both the trial and appellate levels in federal, state, and municipal courts throughout Kansas, as well as in various district courts outside the State.

Mr. Intagliata's successes include defending people accused of homicide, embezzlement, money laundering, bank robbery, narcotics distribution and possession, firearms offenses, sex offenses, aggravated assault and battery, and driving under the influence of alcohol.

A noted litigator, Mr. Intagliata has been named "Wichita Lawyer of the Year" three times by Best Lawyers in America – first in 2017 for Criminal Defense: General Practice; in 2019 for Criminal Defense: White Collar; and in 2022 for DUI / DWI Defense.
NOTABLE CASES
Please remember that past results obtained by Monnat & Spurrier, Chartered, attorneys are no guarantee of future results. Each case or matter is different and is judged on its own merits.
State of Kansas v. Mosier, No. 12 CR 468 (Reno County, Kan., Dist. Ct. January 9, 2014): Court dismissed breach of privacy allegation prior to jury trial on defendant's motion; client found not guilty by jury of rape and lesser included attempted rape; client only convicted by jury of lesser offense of aggravated sexual battery.
State of Kansas v. Chappell, 26 Kan. App. 2d 275, 987 P.2d 1114 (1999): Kansas Court of Appeals reversed client's convictions of aggravated indecent liberties and aggravated criminal sodomy based on trial judge's and prosecutor's improper comments regarding the child witness's ability to tell the truth.
City of Wichita v. Trevino, No. 10 CM 000418 (Wichita, Kan., Mun. Ct. Aug. 17, 2010): Trial judge dismissed prostitution-related charges after prosecutor failed to comply with discovery request.
State of Kansas v. Ralstin, No. 10 CR 43 (Kiowa County, Kan., Dist. Ct. July 21, 2011): Jury verdict of "not guilty" on charge of first-degree, premeditated murder, thwarting prosecutor's plan to seek client's imprisonment for 50 years to life; jury convicted client only of lesser offense of second-degree murder, reducing client's sentencing exposure by decades.
State of Kansas v. Holton, No. 09 CR 3560 (Sedgwick County, Kan., Dist. Ct. Dec. 1, 2010): Trial judge suppressed client's alleged murder confession and other evidence—including alleged murder weapon and victim's property—after finding that police illegally arrested client.
United States v. Jones, No. 6:01-CR-10004 (D. Kan. Nov. 14, 2001): Trial judge found client "not guilty" of being a felon in possession of ammunition, overturning jury's guilty verdict.
State of Kansas v. Shanklin, No. 98 CR 108 (Sedgwick County, Kan., Dist. Ct July 23, 1998): Jury verdict of "not guilty" on charges of first-degree murder and other crimes arising from a drive-by shooting.
United States v. Poulos (U.S. Parole Comm'n 1997): United States Parole Commission declined to extend federal special parole, and granted request to terminate client's parole.
State of Kansas v. Roberts, No. 10 CR 1343 (Sedgwick County, Kan. Dist. Ct. 2011): Trial judge in State drug case dismissed case alleging two counts of possession of marijuana, two counts of possession of drug paraphernalia and one count of no drug tax stamp, felony, at the conclusion of preliminary hearing.
City of Newton v. Doe, 10 N 1358 (Newton, Kan., Mun. Ct. Jan. 27, 2011): Trial judge suppressed all evidence of driving under the influence of alcohol; criminal case dismissed with prejudice; driver's-license suspension dismissed, and client's driving privileges restored