KSN.com
-
by KSN.com
WICHITA, Kan. – Wichita police said a 28-year-old man was arrested on a terrorism charge Monday. Around 5:10 a.m., Brendon Tyler May was booked into the Sedgwick County Jail.
911 dispatchers received multiple calls in reference to a post allegedly made by the suspect on social media.
"Officers began quickly investigating this case. The investigation led them to a business in the 10000 block of East Kellogg. Officers contacted the 28-year-old male at the business. He was taken into custody without incident," said Officer Charley Davidson, Wichita Police Department.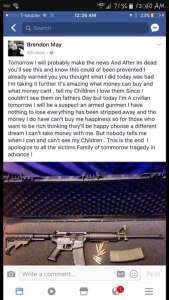 Wichita Police have confirmed that this post on social media led to the investigation.
Police said there wasn't a specific targeted area or person.
"It was more of a listed event that he was claiming that was going to occur," said Davidson.
Police also wanted to thank the public for the calls about the threat.
"This was a great example of if you see something say something," said Davidson.
"We were able to investigate to make sure this community stays safe."
KSN took this case to an attorney who says it's not uncommon to see threats on social media.
Defense attorney Dan Monnat says a terroristic threat is considered a felony, but he says prosecutors must prove beyond a reasonable doubt the criminal intent necessary to commit the crime.
"Was this the cry for help of an extremely alienated person under the influence of mental disease or defect, alcohol or drugs?"
See full interview at KSN.com