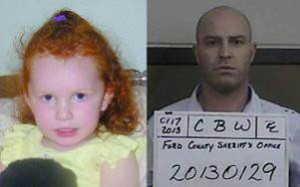 A 28-year-old Dodge City man has been arrested in the 2008 death of his girlfriend's daughter.
The Dodge City Globe reports that Brock W. Cunningham was charged Thursday with first-degree murder and one count of felony child abuse in the death of 3-year-old Natalie Pickle. The child was severely injured in Dodge City on Nov. 19, 2008, and died the next day at a Wichita hospital.
The child was in Cunningham's care while her mother was at work. The case has remained open since authorities ruled the child's death a homicide in December 2008.
Ford County Attorney Natalie Randall says Cunningham was released on $75,000 bond Thursday, but released few other details Friday in a written statement: "The County Attorney's Office wants justice for Natalie Pickle, and will decline to comment further until court proceedings have concluded."
Dan Monnat, Cunningham's lawyer, said Friday that Cunningham is innocent of the charges and "had nothing to do with causing her death." He says Cunningham tried to save the child's life that night and has cooperated with law enforcement during the investigation.
The Associated Press contributed to this report.
KAKE TV